How Accessible is Barcelona?
Whether it's the jumping off point for your Mediterranean cruise or your sole destination, Barcelona has enough accessible sightseeing, accessible beaches, and accessible natural beauty that disabled visitors will want to come back again and again.
In this month's newsletter, I'm sharing parts of my Barelona Access Review with you. It includes the Best and Worst aspects of Barcelona disabled access, based on my own experiences visiting Barcelona in my wheelchair…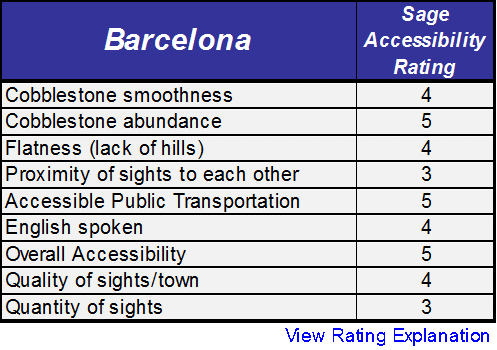 I gave it a 5 Star Sage Accessibility Rating which is my highest rating.
Best Aspects of Barcelona Disabled Access
One of the most cobblestone-free medieval quarters
 – Many European cities are built around a medieval city center, and Barcelona is no exception. However, unlike 
Paris
, 
Bruges
, Siena, and 
Istanbul
, Barcelona has very few cobblestones. Wheelchair users will have a much smoother ride here!
Wheelchair accessible paths at the beach
 – 
Barcelona disabled beach access 
is some of the best I've encountered anywhere in Europe. There are ramps to get from the sidewalk down to the sand, wooden paths to get to the water and beach wheelchairs are available to rent.
Flat city center
 – Although mountains (and ocean) surround the city, 
most of Barcelona is flat
. Manual wheelchair users and slow walkers will love the lack of hills!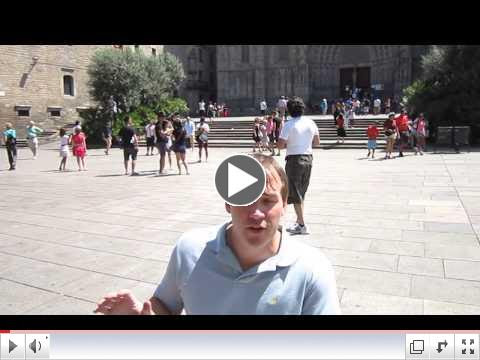 Watch John Sage describe accessibility in Barcelona's city center
All public buses are accessible – All of Barcelona's bus lines use buses with wheelchair ramps. They are quite easy to use and do a decent job of connecting the tourist attractions.
Many modern hotels with good accessibility
 – 
Accessible hotels in central Paris
 are housed in 200 year old buildings, and few have been made fully accessible. In Barcelona, that's not the case!  Many 
accessible Barcelona hotels
 (even in the city center) use modern buildings with flat access at the entrance and roll-in showers. Disabled travelers will have numerous accessible hotels to choose from in Barcelona!
Many accessible cruises leave from here
 – Cruising is one of my favorite ways to travel and it's one of the most accessible ways to vacation! Many 
wheelchair accessible Mediterranean cruises
depart from Barcelona which makes this a great city to visit for 2 or 3 days before heading out to sea! 
Worst Aspects of Barcelona Disabled Access
Hills at some tourist sights – While most of Barcelona is flat, visitors will encounter some hills during their trip.  The Olympic Stadium is located on Montjuic Hill, and Gaudi's Park Guell is also located on a hill.
Barcelona's gondola is not accessible – Barcelona's gondola from Montjuic Hill to the harbor offers great views but unfortunately it has steps a both the harbor end and the Montjuic end (see photo below).
Long tourist lines
 – Just like any other city in Europe, lines can be very long to get into the main attractions.  In Barcelona, this is particularly true at Sagrada Familia and the Picasso Museum.  If a few cruise ships are in port at the same time, the waits can take hours. The best way to avoid this is by booking an 
accessible Barcelona guided tour with skip-the-line tickets
 included. 
Tourist attractions are not within walking distance – Many of the tourist attractions are located inside or near the Gothic Quarter but several require transportation to reach. Gaudi's Park Guell is over 4 km away from the Gothic Quarter.
It is not too late to book your 
accessible Barcelona trip
 for this fall or next spring! Take advantage of the cheaper hotel rates in October, November, January and February, or enjoy the magic of the holidays in Barcelona!
La Sagrada Familia Church, Barcelona
What our clients are saying…
We enjoyed our trip immensely and had very few snags.
The hotel was a good choice for us- the staff and its location were great. The airport transfer was first rate. Our driver for both trips and couldn't have given us better service.
Our two guided tours were also excellent. The driver was understanding and most helpful with John's chair. Our guide gave us a great intro to the city and it really helped us navigate on our own. I'd recommend the Gothic area over the Ramblas. It's safer, less chaotic and has more Barcelona charm.
Many thanks for your guidance in the planning.
Sincerely, Peggy and John-David
Travel Wisely,
John Sage, Founder and President of Sage Traveling
---
Phone: US: 1-888-645-7920, UK: +44 20 3540 6155