Spoiler Alert! This is what our clients are saying…
With the 2018 European summer season coming to an end soon, we can't help but be extremely excited and grateful for the many of you whom have entrusted us with your accessible travel abroad. Thanks to you, we've been able to expand our services to over 45+ destinations worldwide and help promote accessibility in the international travel community.
In this month's newsletter, we've decided to share a few of the testimonials and photos that we've received from some of our wonderful clients this year. We hope that these will encourage and inspire you to take the first steps of making your accessible travel dreams come true in 2019!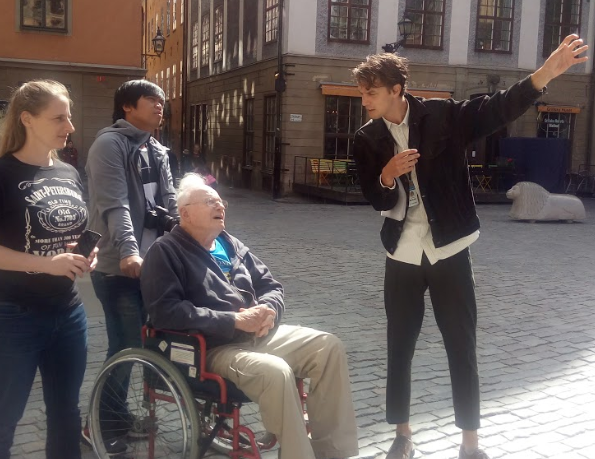 2018 Sage Traveling Testimonials
Guides and drivers all get a 10++
The tours were great and the guides exceptional.
The drivers always made sure I could get on sidewalks and that I was safe. We loved all our guides.
We were very impressed and enjoyed our shore excursions.
I will definitely go thru you when we decide to go on
our next cruise…
– Collette, Baltic Cruise 2018
It was altogether a truly memorable experience which will stay with us forever. We would recommend taking a John Sage tour as we seamlessly navigated around all the points of interest with a wheelchair with no difficulty.
– Roger, Shore Excursion to Pompeii and Herculaneum 
Everything went so smoothly! All transfers and tour guides were on time and hotels were perfect. Thank you so much for all your hard work planning our trip!  We will use you again for sure 
– Joy, Accessible Travel Package Munich & Salzburg
Russia was outstanding. The driver let us out close to each site and had the ramp down and ready to go when we came out.  The van was easy to access and clean. Our guide was a University English teacher, very knowledgeable, and expedited entrance to each point of interest. We blew around all lines at each stop and went right in. Fellow cruise passengers all said their tours were not
equal to ours and many felt rushed. The 2 days in St. Petersburg were the absolute high light of our trip!  
 – Robert, St. Petersburg Shore Excursion 2018
I wanted to tell you we had a wonderful time in Paris! Thank you for all your work putting together our trip. We love Paris and were sad to leave. Our Paris walking tours were terrific. I forget the name of our tour guide for the Right Bank Tour, but he helped Greg out with his Catacombs visit (which didn't happen because of strikes even though he bought a ticket online ahead of time). Our Left Bank/Notre Dame guide (Quentin) was also great and gave us the name of a terrific crepe place we tried a few days later. Our Food Tour guy was great, asking us about our cheese likes before purchasing cheeses to try and he introduced me to my new favorite cheese. We got to try so many delicious treats and he also took us to a church & a newly opened park.
The hotel was great, too, For us, it was the perfect location. We walk a lot and could walk almost everywhere plus all our bus stops were very close by. The staff was terrific and fun – and helpful
Thank you again for a terrific trip! 
I already want to go back, but we have lots of other new places to visit before starting our return visits! 
– Nicole, Accessible Travel Package, Paris and Normandy 2018
I'm excited to share that I just returned from an accessibility research trip to Alaska. It was a wonderful trip! I can't wait to share some of my findings with you, and to add Alaska to our list of accessible destinations for the 2019 season.
Our 
website
 has endless resources available to you including free disabled access reviews, accessible travel tips, detailed tour descriptions, hotel overviews and much more! 
Travel Wisely,
John Sage, Founder and President of Sage Traveling
---
Phone: US: 1-888-645-7920, UK: +44 20 3540 6155