The Top 4 Accessible Boat Tours in Europe!
There is something very unique and magical about cruising down the water canals in old European cities! Sit down, relax and enjoy the beautiful scenery and attractions while you are narrated through the city and thousands of years of history! Best of all, when you take an accessible boat tour, you won't have to worry about steps, curbs or any other accessibility challenges that other tours might present. Once you are onboard, you're all set!
In this newsletter I'll cover why you should definitely consider an accessible boat tour during your accessible vacation, and I'll also share the Top 4 Accessible Boat Tours in Europe!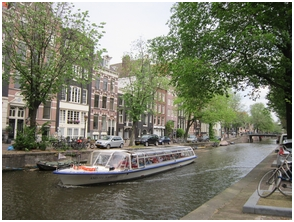 Why book an accessible boat tour?
An accessible boat tour is one of the most affordable ways to see the city – cheaper than walking tours and driving tours!
The accessible boats are usually open air or glass boats, which provides you with a stunning panoramic view and once in a lifetime photo opportunities that you can't possibly get in a car or on foot.
Most accessible boat tours last 1-3 hours which makes them ideal for shorter vacations, or for a first or second day city overview. But don't let the duration fool you. It's quite impressive how much you will see and learn in such a short time!
Great accessibility means you can save your energy for other parts of your trip! Many canal boats have wheelchair ramps available to board the boat and helpful staff to assist you as well.
The Top Accessible Boat Tours in Europe
1. Paris – An accessible boat tour on the Seine River in Paris is hands down one of the most comfortable, unique and easiest ways to see the significant sights the French capital has to offer! With many of Paris' top tourist attractions located along the Seine River, including Notre Dame, Place de la Concorde and the Eiffel Tower, all you have to do is sit back and enjoy the views while the onboard commentary guides you though this magical city. A sloping driveway leads down to the boat dock where you will be able to board the boat via a wheelchair ramp.
The lower level of the accessible boat has plenty of space between the aisles and a designated space for wheelchair users.
If you are up for an unforgettable evening in Paris, I highly recommend the 2.5 hour Accessible Paris Dinner Cruise with live music, a delicious 3 course dinner with wine, and a stunning view of a lit up Paris by night!  
"Our boat tour was highly enjoyable! The staff knows how to make everyone happy, the food was very good, and the scenery was quite interesting. Excellent value for money spent."
– Meares, Manual Wheelchair User, Sage Traveling Client.
2. London – With the accessible boat tour on the River Thames, you won't miss a thing! In fact, it is one of the most exciting sightseeing tours in London if you ask me! From the awe-inspiring House of Parliament to the ancient Tower of London and onto the Royal Palace of Greenwich, the London Eye and St. Paul's, experience the best views London has to offer while enjoying a carefree cruise along the River Thames. Wheelchair users can use ramps to get down to the boat dock where there is flat access onto the boat. Also, the newer boats have an accessible restroom onboard!
On the accessible boat tour in London, you'll see the London Eye, Big Ben, the Tower of London, and much more.
3. Amsterdam – An  Amsterdam Accessible Canal Tour gives you the best value for your money! While onboard the accessible canal cruise, it is easy to see why the canals of this beautiful and unique city have been awarded UNESCO's World Heritage status. You will pass all the city's highlights such as the famous Jordaan neighborhood, the Anne Frank House and the 7 bridges view which provide outstanding photo opportunities throughout the tour. Please note that it is necessary to reserve a wheelchair accessible boat in advance, as space is limited and not every boat in the fleet has a lift.
4, Venice – Imagine leisurely gliding down the Grand Canal in Venice at sunset with a private guide explaining all the sights along the way – Yes, it's pretty fantastic! Most people use vaporetto boats to get around in Venice and they are generally wheelchair accessible. However, for a more enjoyable, worry-free option, I suggest booking a private wheelchair accessible water taxi for a Grand Canal tour instead. You will have the boat to yourself, allowing you to get great views and photos in all directions. The accessible water taxis have a hydraulic lift, and the boat drivers are trained to assist passengers with disabilities. Note that the accessible boats must be booked in advance as they are different from the regular water taxis. 
The accessible water taxi staff is trained to assist disabled clients onboard.
Did you know?
You can get discounts on the above accessible boat tours when you book a Sage Traveling Accessible Vacation Package? The packages don't just save you money…you also get a personal travel consultant who will find you a great place to stay, show you how to move around the city, and provide you with tons of helpful destination accessibility advice. 
Your travel consultant will also handle all of your reservations and be available for emergency accessibility support during your trip.  Our Accessible Travel Packages give you confidence that you will have a safe, stress-free, and memorable vacation. In fact, we guarantee it!
Note: We have already received numerous client requests for summer 2016 trips, and the best accessible hotel rooms are filling up quickly.  Book now to get the best hotel rooms and save money!
Contact us for your next
accessible European vacation!
Travel Wisely,
John Sage, Founder and President of Sage Traveling
---
Email: john@sagetraveling.com
Phone: US: 1-888-645-7920, UK: +44 20 3540 6155
Web: https://www.sagetraveling.com